ICST 2019 Travel Guide
Venue: The Westin Xi'an.
Address: 66 Ci En Road, Qu Jiang New District, Xian 710061 China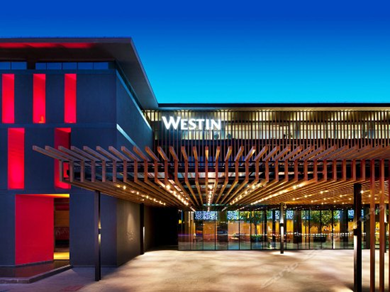 Transportation:

The Westin Xi'an are located 50 kilometers from the Xian Xianyang International Airport (XIY), and just nine kilometers away from Xian Railway Station. Private car services to and from the airport or railway station may be arranged through our Concierge directly. Alternatively, taxis are also available.
Once in Xian, private car services and taxis offer an efficient way to get around the city. The hotel's central location also lends itself to walking, and an efficient subway offers transportation to more distant attractions.
Public Transportation in Xi'an:
The public transport in Hangzhou is quite convenient, There are four metro lines being operated in Xi'an. There are several lines under construction, with line 1 phase two and line 13 (Airport Line) to open in 2019. By the year of 2021, 8 metro lines will be built with a traffic mileage of 243 kilometers (150 miles).
Line 1: Houweizhai - Fangzhicheng, including major stops at North Street and Kangfu Road.
Line 2: Beikezhan (North Railway Station) - Huizhanzhongxin (Conference & Exhibition Center), including major stops at the famous Bell Tower in the city center and Xiaozhai commercial area.
Line 3: Yuhuazhai - Baoshuiqu, passing scenic spots like Giant Wild Goose Pagoda and Qinglong Temple.
Line 4: North Railway Station - Hangtian Xincheng, covering several attractions in the city, such as Giant Wild Goose Pagoda, Tang Paradise.
City Bus
The city buses and suburban buses can bring you to every corner of the city. Also, to meet the development of the tourism industry, tourist special buses and urban sightseeing buses are now operating.
Taxi
Currently, there are more than 12,000 taxis running in the city. They are mostly green. You can easily flag down a taxi along any street, except during the rush hours: 07:30 – 08:30 and 17:30 – 19:00. The taxi charges CNY8.5 for the first 3 kilometers (1.9 miles) and CNY2 for each additional kilometer (0.6 mile). When the trip is more than 12 kilometers (7.5 miles), the price of each kilometer rises 50% for the empty return.
Bicycle
Public bicycle rental service brings a great convenience to the locals and travelers to the city. The bicycles can be easily rented at dedicated sites in almost all districts in the city, including Beilin, Yanta, Gaoxin, Xincheng and Weiyang. The rental service is available from 06:30 to 21:00. After 21:00, only returns are accepted and the rental will be denied. Apart from touring the city by public bike, you can download a sharing bike app to use roadside dockless bikes of Mobike. You can also have a great cycling experience on the City Wall, where bikes can be easily rented at a reasonable price.
Transportation Smart Card
Named Chang An Tong in Chinese, the card saves passenger money and time on many public transport forms. It can be used on most city buses at 50% discount, subway at 30% discount and also taxis. The card can be purchased or rented at one of the city bus companies, the Customer Service Center of any subway stations, and branches of the Xi'an City Commercial Bank and the China Construction Bank.

Transportation to Xian
By Air
Xian Xianyang Airport connects almost major cities in China from Xian. There are also several international airlines. The airport is located within the administrative area of Xianyang city, which gives the airport its name. It is 25 kilometers northwest of Xi'an city center, and 13 kilometers northeast of the center of Xianyang.
So far, there are 48 airline companies running 269 lines which cover most major cities in China and connect several international cities in Asia. Xianyang Airport is the hub of China Northwest Airline which runs most of daily flights to and from cities, including Beijing, Chengdu, Shanghai, Guangzhou, Hangzhou, Kunming, Wuhan, Chongqing, Changsha, Nanjing, Xiamen, Qingdao, and Urumqi, etc.
As for international flight, Xian has flights to Hong Kong, Macau, Seoul, Bangkok, Kuala Lumpur, and Nagoya, Fukuoka, Niigata and Hiroshima in Japan, etc.
By Train
There are three railway stations in Xian: Xi'an Railway Station, Xi'an North Railway Station and Xi'an South Railway Station. Each of them has their own specialty.
Xian Railway Station is the transportation center of Northwest China. It was built in 1934, and has become the fourth busiest railway station in China. It connects most of cities in China, including most of the hot travel destinations: Beijing, Tibet, Chengdu, Shanghai, Yunnan, and Guangzhou (7 daily trains during 09:34~13:27, about 8-9 hours), etc.
North Railway Station is located in Lijiajie Village in Weiyang District, mainly serving high speed trains. Passengers taking bullet train for Beijing (14 daily trains during 07:50~18:22, about 4.5-6 hours), Shanghai (19 daily trains during 06:24~15:48, about 6-7.5 hours), Chengdu (21 daily trains during 07:45~19:36, about 3-4.5 hours), Wuhan (12 daily trains during 09:34~15:16, about 4-5.5 hours), Zhengzhou (57 daily trains during 06:19:44, about 2-2.5 hours), Luoyang (45 daily trains during 07:35~19:44, about 1.5-2 hours), Huashan (37 daily trains during 06:24~19:44, about 30-45 minutes), Chongqing (7 daily trains during 07:30~15:33, about 5-5.5 hours), Lanzhou (35 daily trains during 07:42~20:45, about 3-3.5 hours), Tianshui (34 daily trains during 07:42~20:45, about 1.5-2 hours), Jiayuguan (2 trains during 07:42-13:40, about 8 hours), Zhangye (2 trains during 07:42-13:40, about 6.5 hours) and so forth can depart here.
Xi'an South Railway Station, with the former name of Chang'an Station, is a middle-stop for Chongqing-Taiyuan, Chongqing-Urumqi, Chongqing-Xi'an, Xi'an-Guiyang, Chengdu-Tianjin, Xi'an-Ankang trains. The South Station locates in the city's outskirt area.
Beijing Xian Train
There are three kinds of trains run between Beijing and Xian- High Speed Bullet Train (G-Train), Fast Train (T-Train) and Regular Train (K-Train). G-Trains run between Beijing West Railway Station and Xian North Railway Station, and take only about 4.5-6 hours to get Xian (Beijing) from Beijing (Xian). While T-Trains run between Beijing West Railway Station and Xian Railway Station, and you have to spend half of a day to reach your destination. K-Trains cost lowest money while longest time spending on the train (usually about 15.5hrs).
Other major destinations starting from Xian Railway Station:
Xian - Lhasa T Trains: T265/T266 (09:45 - next day 17:05); T164/T165 (11:24 - next day 19:17)
Xian - Shanghai Z Train: 94/Z92 (16:46 - next day 07:53), etc.
Xian - Chengdu T Train: T7T8 (06:41 – 20:36)
Xian - Chongqing K Train: K1002/K1004(21:28 - next day 10:35)
Xian - Hangzhou Z Train: Z88/Z86 (19:13 - next day 11:51)
Xian - Datong Train: No.2672/No.2671 (22:53 - next day 15:27)
Xian - Pingyao Train: No.2672/No.1485(22:53 - next day 07:24)
Phrasebook
Could you please take me to The Westin Xi'an (66 Ci En Road, Qu Jiang New District.)?
请载我到威斯汀酒店(曲江新区慈恩路66号)
Can I pay it using credit card?
我能使用国际信用卡支付吗?


Can I have the receipt?
请给我发票


Could you tell me where am I now?
请告诉我,我现在在哪里(靠近什么路和什么路交叉口)?


Any help for police, please call 110.
Attractions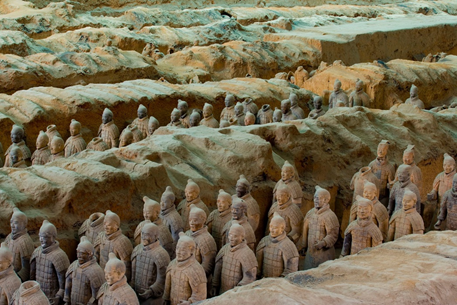 Terra Cotta Army
At the mention of the great number of the local attractions, terracotta soldiers always come as the first. The great archeological excavation of Qin (221BC-206BC) Terra Cotta Warriors and Horses unfolded a strong army of altogether 7,000 life-size pottery soldiers, horses, chariots and weapons arranged in battle formations symbolically, guarding the tomb of Emperor Qin Shi Huang. The grand Mausoleum of the first emperor of Qin and the warriors and horses buried in loess for over 2,000 years amaze every visitor there. Now the Emperor Qin Shi Huang's Mausoleum Site Park was just built on the entire tomb site to offer more spots to enrich your Xi'an vacation.

Giant Wild Goose Pagoda
Located in the Qujiang Tourist Area to the southeast of the city center, this solemn ancient pagoda inside the Da Ci'en Temple was originally built in 652 during the reign of Emperor Gaozong of the Tang Dynasty (618-907). It holds the old Buddhist relics and classics taken from India by the hierarch Xuanzang. The pagoda and its surrounding areas nowadays become a popular resort for both the locals and the tourists. Fortunately, the venue is just opposite the Big Wild Goose Pagoda.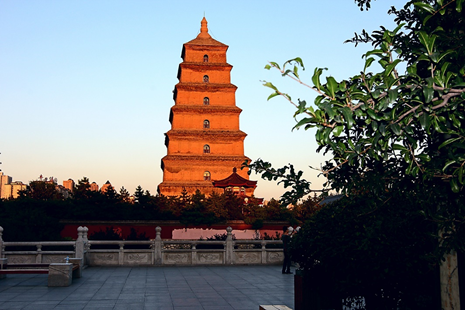 Shows and Performances
Ÿ Impression West Lake
Performances of "Impression West Lake," a unique metropolitan outdoor show on the most natural stage
in the world, are set on the wavy, mellow, and ever-changing West Lake, ensuring that the performance
appears vivid and natural.
Ÿ The Romance of the Song Dynasty
"The Romance of the Song Dynasty" is based on the historic stories and legends of the city of Hangzhou and is one of the "World's Top Three Famous Shows."
Shopping
Ÿ
Where to Buy Souvenirs in Xi'an
Apart from the featured streets of Shuyuanmen Ancient Cultural Street and Muslim Quarter, you can also find several nice souvenir markets in Xi'an to buy the unique artworks as souvenirs, such as Tang West Market, surrounding area of Giant Wild Goose Pagoda. In big supermarkets, there is always an area for local specialties for tourists' convenience.
Ÿ Where to Go Daily Shopping in Xi'an
Commercial Centers
There are several commercial centers in Xi'an including Bell & Drum Tower Commercial Centre, Xiaozhai, Gaoxin Business Area, Giant Wild Goose Pagoda and its surrounding area and Kangfu Road commercial areas. Bell & Drum Tower Commercial Centre is the most important and popular shopping area in Xi'an, permeated with strong traditional atmosphere. Xiaozhai is a thriving commercial area in Xi'an which mainly attracts young people with its trendy fashions. Gaoxin Business Area is a location where there is a preponderance of white-collar groups and prices tend to be high there. Giant Wild Goose Pagoda and its surrounding area is a great place to buy local artworks. While, Kangfu Road commercial area is great destination for wholesale shopping; you can bargain there for the goods you desire at surprisingly low prices.
Shopping Malls
There's a mall called Dayuecheng across the street from Westin hotel.Besides,there are many shopping malls in Xi'an, such as Century Ginwa Shopping Mall, Kai Yuan Shopping Mall, Saga Shopping Mall, Minsheng Department Store, Golden Eagle Shopping Market and Wanda Plazas. They provide a wide variety of good quality products including food, clothing, electronics, jewelry and they also try to meet the demands of different classes of customers.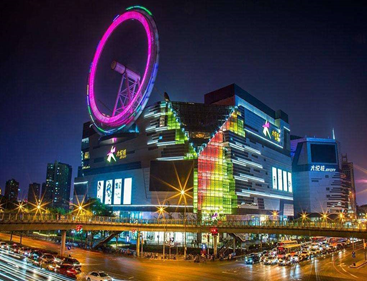 Supermarkets
Supermarkets are numerous in Xi'an and in the main can be found around universities and residential areas. Also, there are some that are easily accessible in the city center. The famous ones include Vanguard, Ren Ren Le, Yonghui Superstores, Wal-Mart. You can go daily shopping for almost anything you need there.
Food
Liang Pi
Shaanxi Liang Pi, also known as cold skin noodles, is a famous Shaanxi snack in Guanzhong area, especially Xi'an. It's said that Shaanxi Liang Pi have a long history of over 2,000 years from Qin Dynasty (221 – 207 BC). Made from wheat or rice, Liang Pi is thin and soft with a chewy flavor. It consists of three main categories: Wheat Noodles (Gan Mian Pi), Rice Noodles (Mi Pi) and Niangpi. To enjoy the Liang Pi, you can't miss the popular local restaurants such as Baoji Wheat Noodles, Qinzhen Liang Pi and Qishan Wheat Noodles.
Nowadays, the Sanqin Set Meal (Liangpi Set Meal) including Liang Pi, Rou Jia Mo (meat sandwich or Chinese style hamburger) and Bingfeng Soda Water is quite popular among all local people.
La Zhi Rou Jia Mo
Rou Jia Mo, one of the Xi'an Must-eat foods, has been listed as the intangible cultural heritage of Shaanxi province. Rou Jia Mo is like a chopped pork sandwich or Chinese style hamburger. The meat must be well cured with over 30 kinds of seasoning. Besides, adding some gravy into Rou Jia Mo makes it more delicious.
As mentioned above, together with Liang Pi and Bingfeng Soda Water, Rou Jia Mo is quite popular and known as Sanqin Set Meal.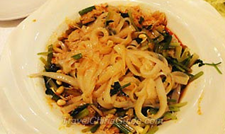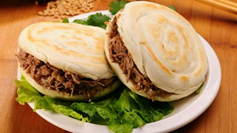 Important Tips:
Temperature
The temperature in Xi'an normally changes sharply between day and night; therefore, it is highly advisable that a thick overcoat should be taken to keep out the cold, even in spring.
Currency Exchange
It is quite easy to exchange money in China and the rates will be more favorable, but it is advisable to exchange a small amount in your country before leaving. There are counters at most airports in China, providing money exchanging service. Mostly people will also go to banks in downtown areas. Remember to take your passport, which need to be presented when converting currency in the country. For guests who staying at the Westin, the hotel reception offers USD - RMB currency exchange service free of charge, for a maximum of 2,000 yuan per room per day.
Drinking Water
It is very safe to use the tap water for boiling and cooking in China, but it is necessary to avoid drinking it directly.Boiled water is available in all guestrooms, and bottled mineral water is readily available for purchase.
Credit Cards
The following foreign credit cards are accepted in China: Master Card, Visa, American Express, JCB, and Diners. These card holders can draw cash at the Bank of China or use the cards for payment directly in stores, restaurants, and hotels designated by the Bank of China.
Electricity
China runs on 220 volts with a variety of plug types. Most common are the two pronged straight plug (U.S. style) and three pronged angled (Australian style).If you have 3 prong USA style plugs, you will need an adapter. If your appliance is rated for 110 volts only and you want to plug it in, you will need a power converter.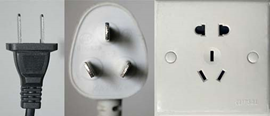 Plug types in China